35 year old tusker has lost its left eye
Ask Mysuru 25 June 2021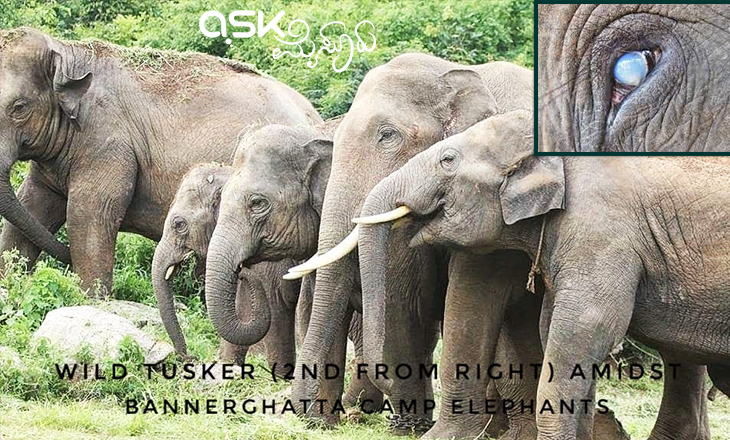 Elephant is reverred as a deity in India.
Yet it is the most abused animal in the country.
Consider the plight of Cheran, a tusker, at the Theppakadu elephant camp in Mudumalai tiger reserve.
In a fit of anger a mahout (not on the payroll of the government) reportedly injured the eye of the elephant.
He may have not done it intentionally, but the 35 year old tusker has lost its left eye.
Cheran is completely blind, as its right eye had been infected earlier.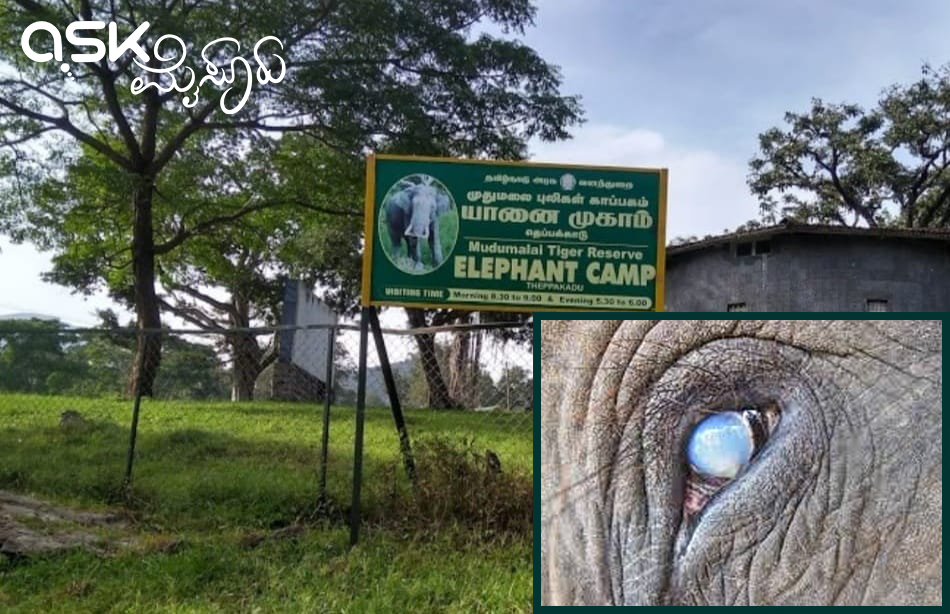 Could this trauma have been avoided?
Yes.
Cheran was a trained Kumki elephant (used in driving away/ capturing tigers and elephants). It was under the command of Ravi, until its mahout was injured two years ago.
Since the Tamil Nadu Forest Department did not hire a replacement mahout, Ravi 'employed' an acquaintance to tend to Cheran.
It is disappointing that neither the range forest officer, nor the field director, Mudumalai tiger reserve, addressed the crisis in the Theppakadu Elephant Camp.
There is a captive elephant management plan issued by Director, Project Elephant. But…
It is baffling that a government employee could employ someone of his choice to 'ghost' for him!
Wasn't RFO Dayanand, who has been in charge of the range for three years, aware of this situation?
Had the field director taken prompt action, Cheran would have certainly not lost its vision.
Reportedly the work culture is far from good at Theppakadu.
There are disconcerting reports that the camp elephants are not being trained to be kumkis, as some mahouts don't show up for work regularly.
It is a practice in all elephant camps wherein the mahout and kavadi feed their assigned elephant at 9 in the morning. This helps to bind their relationship.
As in all elephant camps, the captive animals at Theppekadu are stressed.
So are the mahouts and kavadis who are a neglected lot.
These questions begged to be asked:
1. How could an injured/ incapacitated employee hire someone to do his job and yet draw his salary?
2. How could the range forest officer allow this to happen?
3. Wasn't the field director, Mudumalai tiger reserve aware of these wishy-washy, gory happenings in his jurisdiction?
The government of Tamil Nadu, Ministry of Environment Forest and Climate Change and Project Elephant should call for a thorough enquiry.
If the field director and range forest officer have failed in their administrative responsibility, they should be reprimanded.
Ideally, MoEFCC should form an expert committee to study the conditions of elephants, mahouts and kavadis at every elephant camp in India. One of them should frequent these camps to get on-ground assessment of the prevailing conditions.
Cheran is blind due to man's negligence. Let this not happen to other captive elephants.
_________________
Follow us on:
https://facebook.com/askmysuru
https://instagram.com/askmysuru
Join us on:
https://facebook.com/groups/askmysuru
Email:
lets(at)askmysuru.com
Website:
Subscribe us on:
https://youtube.com/c/askmysuru
Tags :
elephant
elephant camp
eye issue
forest
mudhumulai